University of Engineering and Technology, Lahore
Main Campus Lahore
University of Engineering and Technology abbreviated as UET is the most of the famous institute in the field of engineering in Pakistan. UET provides vacancies for different posts i.e.
• Professor (BS-21/TTS/Contract) : 1) Architectural Engg and Design 2) Architecture 3) Chemical Engg 4) chemistry 5) Geological Engg, Electrical Engg, 6) Mining Engg.
• Associate Professor (BS-20/TTS/Contract) : 1) Transport Engg, 2)Humanities and Social Sciences, 3) Environmental Engg, 4) Polymer and Process Engg , 5) Geological Engg, 6) Management Sciences/Business Administration.
• Assistant Professor (TTS): 1) Mechanical Engg 2) Chemical Engg 3) Product and Industrial Design 4) Mathematics 5) Physics
• Assistant Professor (Contract): Management Sciences/ Business Administration.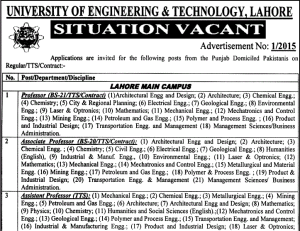 Eligibility Criteria:
• Information about research publication is available on the HEC website (www.hec.gov.pk).
• The requirements for Assistant Professor, candidates must having Ph.D Degree. Rules are strictly made strictly under HEC Authority.
• Age Limit Professor: Not more than 45 years.
• Associate Professor: Not more than 40 years.
• Assistant Professor: 23 to 30 years (Relaxable)
• Not T.A/ D.A will be paid for the interview.
Online Applications:
• Visit the website: jobs.uet.edu.pk
• Fill out the relevant fields of online application.
• Upload passport size scanned photograph.
• Print the application duly completed in all respect and sign it.
• Attach bank order amounting Rs. 85 for BS-19, Rs 110/- for BS-20 and Rs. 160/- for BS-21 and other required documents with the printout of application.
Contact: Mohammad Asif (Registrar)
Tel: 042-99029227