Admission in Virtual University
Virtual University is one of the best University in Pakistan which provide learning and education skills at anywhere in Pakistan. Everyone knows education is an important factor in human life. Education starts at primary level and ends excellent stage. Today is the world of competition. No can deny the importance of Education. Education helps us in every field. It fulfills our dreams. In the school, college and University you learn discipline, respect and punctuality. In Pakistan, Government spends lot of resources to enhance the education. For this purpose many colleges and universities are open everywhere. Lahore is the big city of University, School and Colleges. Virtual University is also one of them. Virtual University is a public university with great number of students. Virtual University in short named as VU. It is located in Lahore, Pakistan. It was established in 2002. University offer online admission and courses to the students regarding their location at very low fee. Vu offer post graduate and under graduate programs. VU works under Federal Government University. According to schedule admissions are open in VU, as spring session start very soon.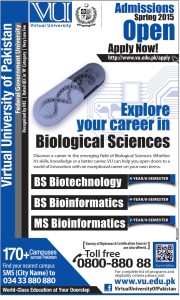 Admission Fields:
• Admissions are open in different departments:
• BS-Biotechnology Programme: This is 4-years degree programme which contain 8 semesters.
• BS-Bioinformatics Programme: 4-years Degree with 8 semesters.
• MS-Informatics Programme: 2-years with 4 semesters.
• Different courses and diplomas are also offered from the University.
• Candidates can apply online on http://www.vu.edu.pk/apply
The student can send sms to find the nearest campus sms (City Name) to 0343-3880880.
Contact:
Toll-Free: 0800-880-88
www.vu.edu.pk