Sky Line University College Admission
Admissions are open in skyline University College, Lahore. Skyline is a great educational institute. World cannot be progress without education and learning. When you get knowledge, it enhances your learning capabilities. Education helps you to read and write properly. Education makes a person literate, it helps us in reading sign board at shops. Communication skill cannot achieve without getting knowledge. You can write your name if you have no knowledge. Education makes independent, person can ear anywhere when he has education skills. Education is divided into different levels primary, secondary and higher education. Universities made for spread knowledge everywhere. They are working for the bright future of student. Students can get admissions in Skyline University, Lahore.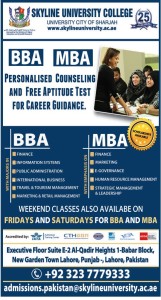 Departments:
• BBA: BBA stands for Bachelor of Business Administration .Admission is open in BBA Finance, Informatics Systems, Public Administration, International Business, Travel and Tourism Management, Marketing and Retail Management.
• MBA: MBA abbreviated as Master of Business Administration. University offer admission in MBA Finance, Marketing, E-Governance, Human Resource Management, Strategic Management and Leadership.
Regular and weekend classes are starting. Weekend class held on Friday and Saturdays. Students of Business Administration field can avail this opportunity. Free Aptitude test conducted for students from the University.
Contact:
Executive Floor Suite E-2 Al-Qadir Heights 1 Babar block,
New Garden town Lahore, Punjab Lahore Pakistan
Ph: 0323-7779333
Admissions.pakistan@skylineuniversity.ac.ae