PPSC Forestry Department Jobs
Forests are necessary for living. Forestry department is a part of wildlife and fisheries department.Forests are the responsible for environmental changes.In Pakistan forestry department created in 1947. Forestry is a field of planting and managing and maximize the forests. It is the duty of every citizen to take care of existing plant and crate new forests. Job is the necessity of everyone. Job provides you opportunity to enhance your skills. Punjab Public Service commission offer jobs for jobs for the Forestry department. There is one permanent post of GIS Manage in the Punjab forestry department. Job is (BS-18).
Eligibility:
Interested candidate must have MS in Space Science or Remote Sensing from the university. Candidate has 3 years experience in related field and one year experience in GIS application use.
Candidates have M.Sc in space science or GIS from any university. And candidate having some experience in related field.
Candidates have BS in space science with five years experience of GIS application or natural resources.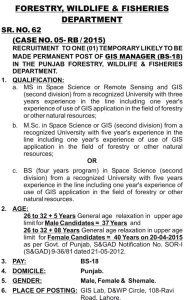 Instructions:
Candidate pay would be BS-18.
Candidate should have Punjab domicile.
Both female and male is required.
Candidate age limit is 26 to 35 years.
Contact:
Mrs. Fehmida Mushtaq (Secretary)
Tel: 042-99200161, 99202762
Email: ppsc@punjab.gov.pk, website: www.ppsc.gop.pk